CeMig Newsletter
06 July 2021
This is the newsletter of the Centre for Global Migration Studies (CeMig). It provides regular information about events, research projects and publications on the subject of migration at Göttingen Campus and within the region.
Please note: because of the summer/semester break, there will be no newsletter in August. We wish you pleasant and relaxing summer time!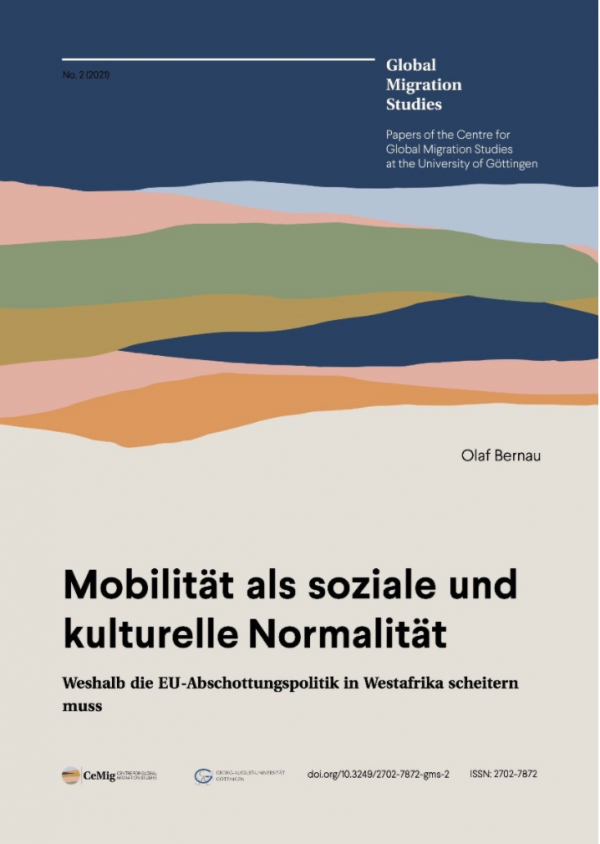 Mobilität als soziale und kulturelle Normalität. Weshalb die EU-Abschottungspolitik in Westafrika scheitern muss
New Issue (02) of Global Migration Studies
Abstract: Seit der als "Flüchtlingskrise" titulierten Ankunft von drei Millionen Menschen in den Jahren 2014 bis 2016 hat die Europäische Union (EU) ihre Migrationspolitik gegenüber dem afrikanischen Kontinent erheblich verschärft. Neben einer abermaligen Intensivierung der seit den 1990er Jahren kontinuierlich weiterentwickelten Abschottungsmaßnahmen wurden auch diverse Programme zur Bekämpfung von Fluchtursachen aufgesetzt, unter anderem der "Nothilfe-Treuhandfond der Europäischen Union für Afrika" im November 2015. Umso dramatischer ist, dass die Maßnahmen nicht nur zu einer Häufung schwerster Menschenrechtsverletzungen auf den Migrationsrouten geführt haben, sondern auch zu einer weiteren Destabilisierung der Herkunfts- und Transitländer afrikanischer Migrant*innen. Zentrales Manko ist, dass Europa bis heute nicht begriffen hat, inwiefern Migration in vielen afrikanischen Ländern eine tief im sozialen und kulturellen Gefüge verankerte Überlebensstrategie darstellt. Konsequenz ist, dass sowohl in der Politik als auch in breiten Teilen der Öffentlichkeit unverstanden bleibt, weshalb es trotz zunehmender Abschottungsmaßnahmen nicht gelingen wird, die sozialen Logiken aufzubrechen, die dem allgemeinen Migrationsgeschehen in afrikanischen Ländern zugrunde liegen. Vor diesem Hintergrund vertritt der vorliegende Beitrag am Beispiel Westafrikas die These, dass die EU nicht Abschottung, sondern zirkuläre Mobilität zum Leitmotiv ihrer Migrationspolitik erklären sollte – so wie es ins- besondere in Westafrika bereits seit Jahrhunderten gang und gäbe ist. Konkret nimmt der Beitrag, der primär aus der politischen und journalistischen Arbeit des Autors her- vorgegangen ist, erstens die Geschichte westafrikanischer Mobilität in den Blick, geht zweitens der Frage nach, weshalb sich junge Menschen immer wieder auf den Weg Richtung Europa machen, skizziert drittens die seit 2015 intensivierten oder neu eingeführten migrationspolitischen Maßnahmen, arbeitet viertens die fatalen Auswirkungen europäischer Migrationspolitik heraus und benennt fünftens die zentralen Trugschlüsse, die der restriktiv ausgerichteten EU-Migrationspolitik zugrunde liegen.
For more information and the PDF visit our website.


New submissions are highly welcome! Please send them to cemig-publications@uni-goettingen.de. For more information for authors, visit our website.

New Publications by CeMig Members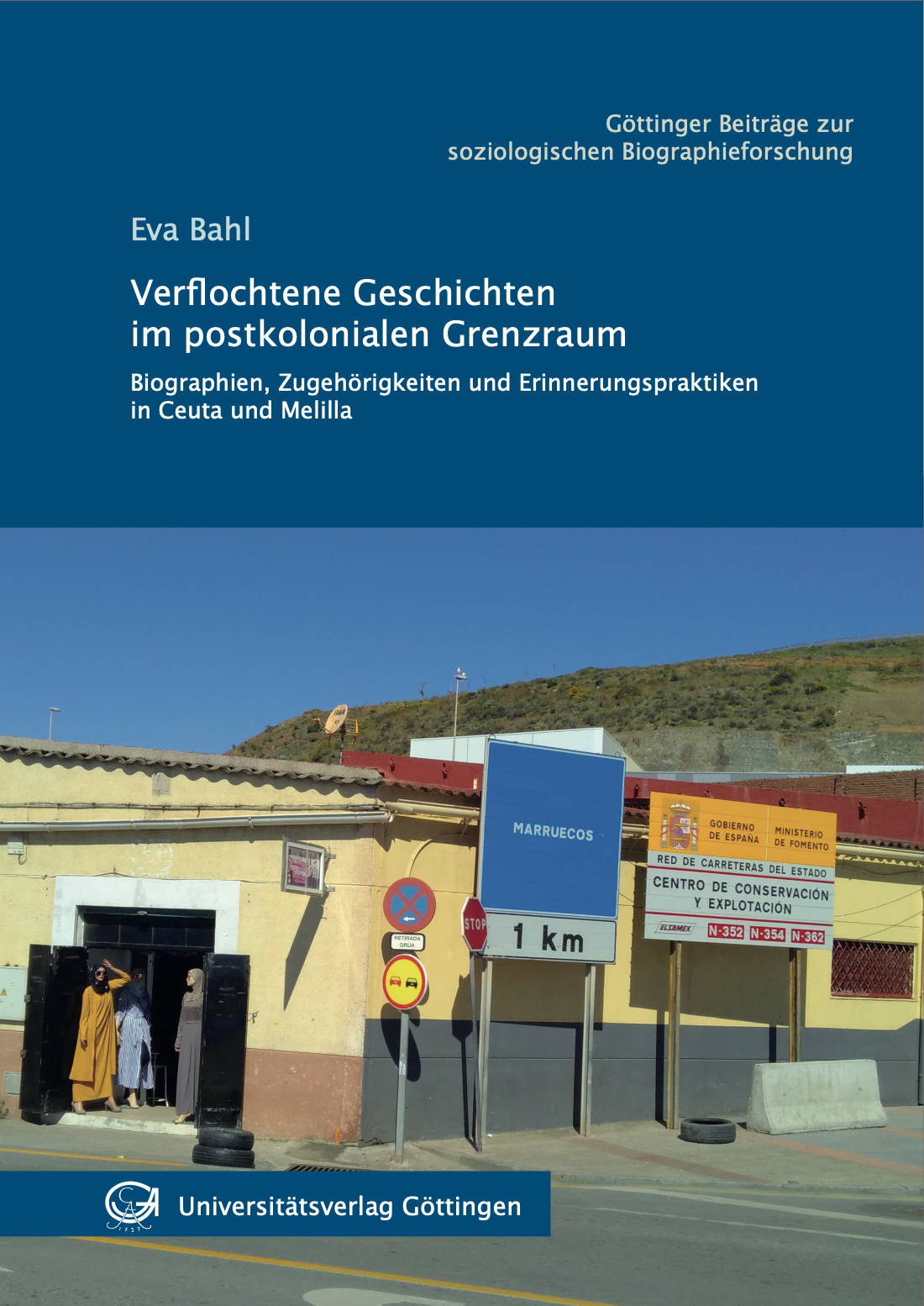 Verflochtene Geschichten im postkolonialen Grenzraum. Biographien, Zugehörigkeiten und Erinnerungspraktiken in Ceuta und Melilla.
New Publication by CeMig-Member Eva Bahl (in German)
Abstract: All over the world, borders are places of separation, distinction and violence on the one hand, and of encounter, mobility and everyday practices on the other. This is particularly true of the external borders of the European Union. When Spain joined the European Communities in 1986, Ceuta and Melilla, two cities in North Africa, became such an external border and the six-metre-high fences surrounding them became a symbol of "Fortress Europe". But what does this mean for the people who live in such a place? How do they experience everyday life in a "caged city", and how do they interpret their experiences? This sociological study focuses on figurations between old-established groupings in the border space between Spain and Morocco, and reconstructs a post-colonial border space in the light of transformation processes and slowly changing power balances, in which belongings and views of history are constantly being renegotiated. Different actors in the border space are studied from the perspective of figurational sociology, the sociology of memory and biographical research. Four detailed case analyses serve to illustrate the complexity of local social realities. These are embedded in historical and present-day social constellations in this border space between Spain and Morocco, and it is made clear that constructions of belonging and power relations in Ceuta and Melilla can only be understood in the context of colonial and post-colonial processes and events.
For more information and access to the document visit the website of Göttingen University Press.

Precedents of mass migration: policies, occupations, and the sorting of foreigners in São Paulo, Brazil (1872)
New Paper by CeMig-Member Bruno Gabriel Witzel de Souza

Witzel-Souza, Bruno Gabriel (2021). Precedents of mass migration: policies, occupations, and the sorting of foreigners in São Paulo, Brazil (1872). Economic History of Developing Regions
Abstract: This paper studies the distribution of foreigners across counties of the province of São Paulo, Brazil, in 1872. The analysis stresses the historical importance of policies that fostered immigration in the nineteenth century by discussing the two main migratory strategies pursued in Brazil by the 1870s, namely the recruitment of foreign bonded labourers to the plantations and of settlers to rural colonies. The empirical approach studies the sorting of foreigners according to the economic, institutional, demographic, and geographic characteristics of the counties. Results show that the number of foreigners in 1872 was positively correlated with the ease of access to a region and with contemporaneous immigrant networks. The number of foreigners in 1872 also correlated negatively with the free, non-white, population, suggesting a degree of substitutability in local labour markets in a period before mass immigration to the region. Finally, the economic structure of the counties influenced the allocation of foreigners. Agricultural employment was associated with less immigrants, while manufacturing and trade-related activities were linked with a larger number of foreigners.

Upward, Lateral, or Downward? Multiple Perspectives on Migrants' Educational Mobilities
New Publication by CeMig-Associates Janina Söhn and Milena Prekodravac
Söhn, J. and M. Prekodravac (2021). "Upward, lateral, or downward? Multiple perspectives on migrants' educational mobilities." Social Inclusion 9(1): 140–151
Abstract: Education is a major component of individuals' social status in terms of self-positioning and economic opportunities. Migrants' qualifications from abroad are often devalued by employers or state institutions. One option to react to such a lack of recognition is the gaining of institutionalized cultural capital in the receiving society. Comparing levels of edu- cation attained before and after migration, migrants may move in an upward, lateral, or downward direction. Our study investigates the vertical dimension of transnational educational mobility from multiple perspectives. First, our quantita- tive analysis of the NEPS (the German National Educational Panel Study) relates the levels of pre- and post-migration education. We critically reflect on how respective results on educational mobility depend on how respondents sort their foreign education into the German system of educational categories and hierarchies used in the survey questionnaire. Second, our qualitative analysis sheds light on several dimensions of migrants' subjective views and how their educational biographies interact with institutional settings in the receiving society. Exemplarily presented in-depth interviews focus on migrants who pursued educational programs in order to be able to return to the occupations (nursing and economics) they had been trained for abroad, but for which they were denied recognition in Germany. Our findings emphasize that post-migration education is highly ambivalent in terms of in- and exclusion. Individual migrants are caught in the structural tension between academic education as a rather globalized institution and nationally specific educational programs and hierarchies which are often incompatible across borders.

Webinar Banco de España. FLARFlujos de remesas y sus efectos para la estabilidad macroeconómica y financiera en América Latina durante la crisis Covid-19
Martes, 27 de julio, 9am (Bogotá) – 4pm (Madrid) 1 hora
Emmanuel Abuelafia (Banco Interamericano de Desarrollo)
Fenómeno migratorio y flujos de remesas hacia América Latina, y principales diferencias entre los flujos de remesas de EE. UU y de Europa
Manuel Orozco (Non-resident Senior Fellow, Dialogo Interamericano)
Determinantes, costos y formalización de los flujos de remesas
Inmaculada Martínez-Zarzoso (Ibero-America Institute for Economic Research & Centre for Global Migration Studies, Uni. Göttingen)
Impacto de las medidas de apoyo económico, de contención y de restricción a la movilidad sobre las remesas enviadas a América Latina durante la crisis Covid-19
Vías de transmisión: Vía Zoom, LinkedIn y Youtube.
Para inscribirse, escriba un correo electrónico a martinei@uji.es